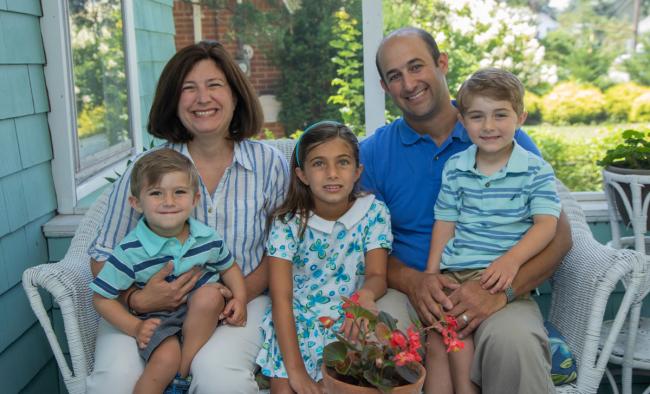 Suffolk County Legislator Rob Calarco was first elected to office in November 2011 and has defined himself as an energetic leader who will deliver solutions to the communities he serves. In 2014 he was selected by his caucus to be the Majority Leader of the Suffolk County Legislature and in 2016 he was chosen by his colleagues to be Deputy Presiding Officer of the Suffolk County Legislature.
Rob grew up in Auburn, New York. As the middle son of a first-generation Italian-American employed as a firefighter and a stay-at-home mom who helped support her family as a seamstress; Rob watched his family struggle to make ends meet and contributed to the household with whatever small jobs he could obtain. He learned early the values of hard work and respect for all people. Inspired by his father, who served 34 years in the Auburn Fire Department and led the effort to unionize the department, and by his grandfather who, as Superintendent of the County Parks Department, helped to lead the restoration of Emerson Park on Owasco Lake, Rob comes to public service naturally.
After earning a Bachelor's Degree in Political Science at Dowling College he went on to earn his Master's Degree in Public Administration from SUNY Stony Brook at night while working full time. Rob has spent over 16 years working in Suffolk County government and in his tenure as Legislator he has delivered a number of projects within the 7th Legislative District, including:
• Securing $18.5 million for sewer infrastructure that improves water quality
• Addressing overcrowded housing and increasing public safety in Gordon Heights and East Patchogue
• Securing funding for eradicating invasive species in Canaan Lake and to restore the Mud Creek Watershed
• Finding a new home for the historic Carnegie Library
• Hosting the Medford Concert Series working with the Medford Chamber of Commerce and Medford Taxpayers & Civic Association
He has accomplished all of these things while passing five consecutive balanced budgets without raising General Fund property taxes. Rob is currently leading the effort to create more affordable housing so working families can afford to stay in Suffolk County; take on the opiod makers to stem to slow of harmful drugs into our community that is fueling the addiction crisis; support community efforts to improve quality of life; effectively address problem rentals in Gordon Heights; bring economic development along the Bellport Montauk Highway corridor; and crafting a regional approach for job creation.
Rob chairs the Government Operations, Personnel, Housing and Consumer Protection Committee; is vice-chair of the Public Safety Committee; and serves on the Ways and Means Committee; Public Works, Transportation, & Energy Committee; Education and Human Services; and the Health Committee.
Rob is lives in Patchogue Village with his wife, Laura and his three children, Alma Rosa, Patrick, and Bodhi. They share their home with their dog, Buck. They enjoy walking to the parks and caring for their vegetable garden.
Rob is currently a member of several community and fraternal organizations, including St. Sylvester's Knights of Columbus, Sons of Italy Sgt. John Basilone Lodge, the Greater Patchogue Historical Society, the Greater Patchogue Chamber of Commerce, Medford Chamber of Commerce, Bayport-Blue Point Chamber of Commerce, Gordon Heights Chamber of Commerce, and the Patchogue Garden Club. He attends mass with his family regularly at Our Lady of the Snow Catholic Church in Blue Point.